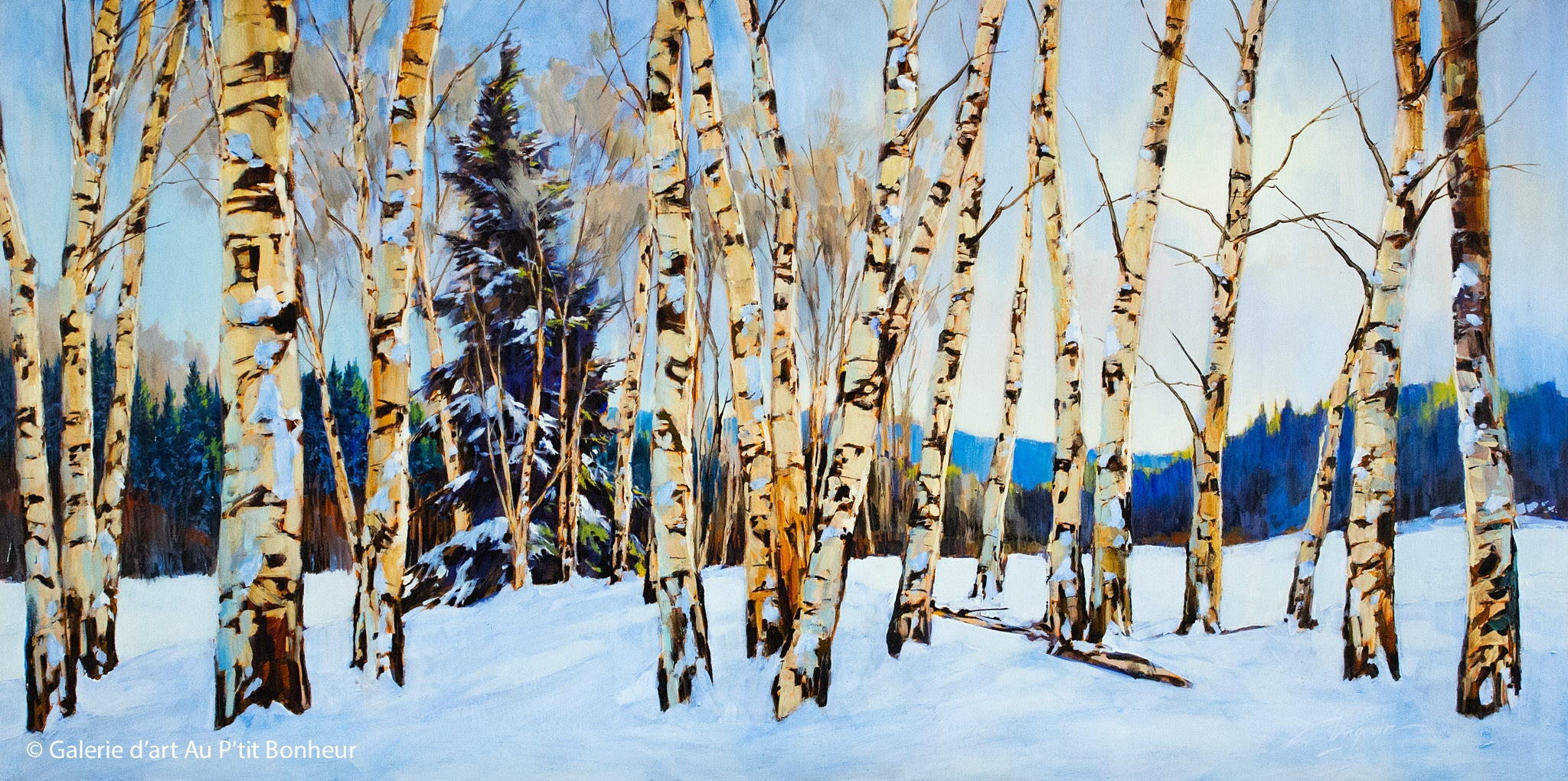 Would you like to receive news from David Langevin by email?
David Langevin was born in Sherbrooke, Quebec in 1959. In his dramatic landscapes and "tree portraits", he pays powerful homage to the wilderness, especially that of the Kamloops region of British Columbia, where he has lived since 1992. With great technical mastery, his works are audacious and distinctive.


---
David Langevin - The fight against time
His date and place of birth
Born in Sherbrooke in 1959, David Langevin has lived in Kamloops, British Columbia, since the early 1990s. With its temperature, its wild nature and its trees, this city on the West Coast is, he says, an ideal place that he did not choose, but who chose him.
His education, his career
Although he began to draw and paint long before he began his studies, David Langevin's professional career demonstrates the importance he places on training in his artistic approach; A graduate of Fine Arts from the University of Ottawa in 1983, he spent a few years perfecting his painting skills before continuing his training at McGill University in Montreal, where he obtained his Master of Arts in Education in 1990. Finally, four years later, thanks to his thesis on the techniques and materials used by the great masters, he also obtained a master's degree in arts at McGill University.
" I learned to paint by studying the techniques of a host of painters who left this world hundreds of years ago. I imagine that's how it is when you want to see Canadian landscapes through Rembrandt's eyes. »
-David Langevin
After several years spent combining teaching and creation, David Langevin decided in 1994 to devote himself exclusively to his painting.
His work, his art
With his vast technical knowledge and love of his medium, acrylic, David Langevin makes brilliant use of the elements of composition, color and light and delivers powerful homages to the wilderness. David Langevin's work has a strong symbolism, that of the fight against time. David Langevin's trees are rarely straight. They cling to life, twisted, imperfect, bent, uneven; clinging to capes of rock, sometimes solitary, sometimes grouped together, trunks without branches or leaves. Pines and birches struggling in a rigorous nature, just as generous as it is unforgiving.
His art is based on an elaborate system of applying multiple layers of successive glazes and impastos. He loves dramatic lighting, shadows and transparencies. The result is a feeling of depth and intense inner life that takes you to the guts.
" I love the contrasts, the projections and the cavities, the solids and the hollows – in short, the interstices, the forms between and under the forms. I also pay great attention to line and contour. Drawing means a lot to me. Sometimes I even manage to "draw" while painting. »
-David Langevin
David Langevin has been represented by the Au P'tit Bonheur Art Gallery since 2004, exclusively for Quebec.