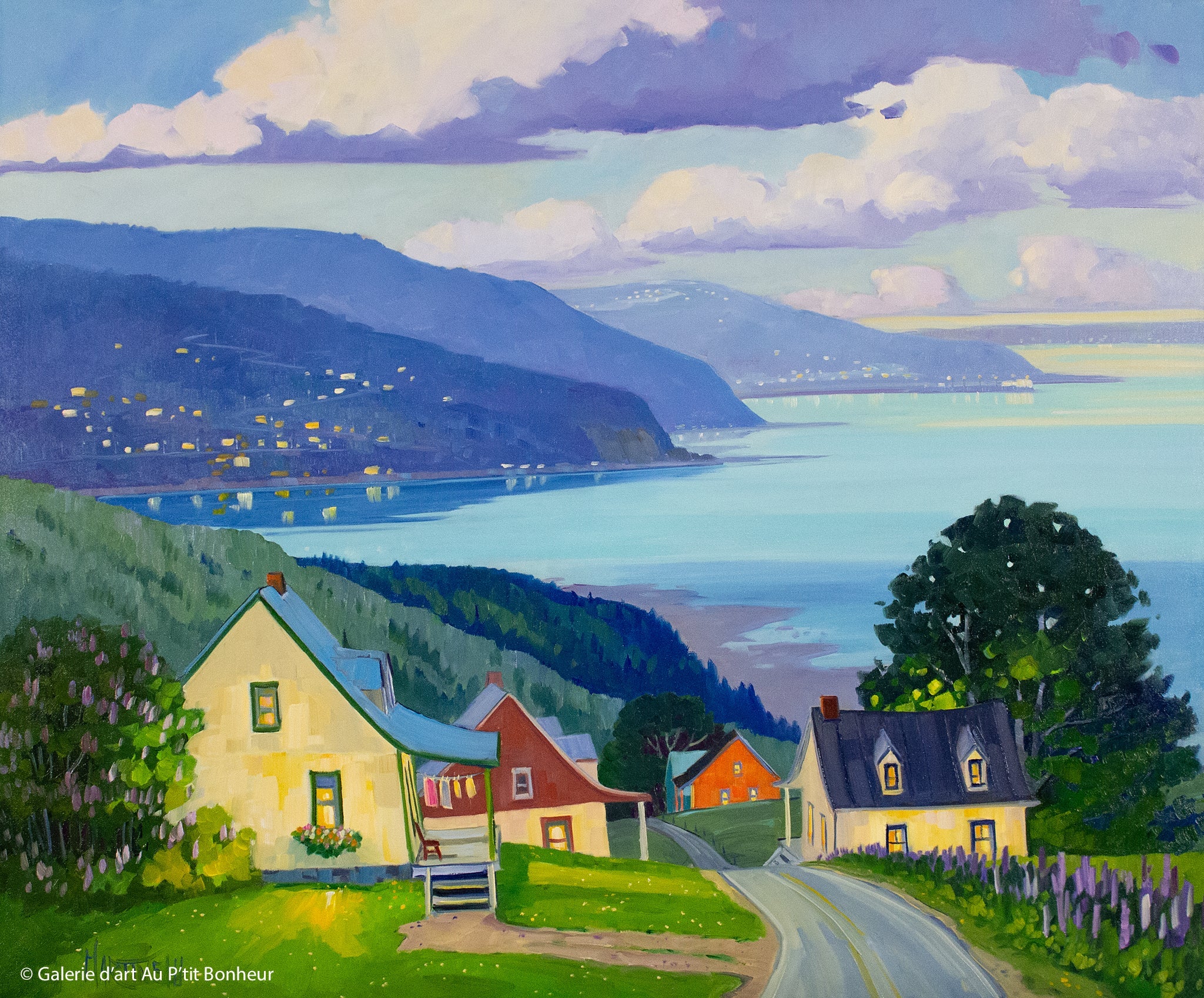 Would you like to receive news from Louise Martineau by email?
Louise Martineau was born in Quebec City in 1952. In love with beautiful villages, it is above all in the countryside of Charlevoix that she fills her love for drawing and painting. Her oil paintings are both spontaneous and generous, and her brightly colored compositions reflect the warmth and dynamism of their interpreter.

---
Louise Martineau - Exciting getaways
Her date and place of birth
Louise Martineau was born in Quebec City in 1952. She spent most of her childhood summers in Château-Richer, just across from île d'Orléans, surrounded by nature and towering trees, her constant companions.
Background and career
After studying psychology at Concordia University in Montreal, Louise Martineau chose to return to her native city, where she taught for many years.
In the late 1970s, following years of solitary work developing her style and technique, Louise met artists from the area who guided her toward mastery of her art. This period of study proved very productive, as her talent, hard work and determination to push herself ever further quickly earned her a place in Quebec's art world. In the early 1990s, she held her first professional solo exhibition, just as she began to devote herself full time to her art. Quebec City, Montreal, Edmonton and Victoria have since all had an opportunity to recognize her success.
Her work and art
As a landscape artists, Louise Martineau nurtures her love of drawing and painting in natural settings. She is constantly roaming the shores of the St. Lawrence between Quebec City and Charlevoix, with side trips to île d'Orléans, to give free rein to her enthusiastic creativity. She then draws inspiration from her plein air sketches to produce large paintings in her studio.

With a special love for rural heritage, Louise Martineau paints picturesque farmhouses, rolling fields and winding country roads that bring back fond memories of Sunday afternoon drives. Tall, spreading trees are always a prominent feature of her landscapes, a motif that has never failed to inspire her. Blazing fall maples, majestic oaks, sparkling white birches and feathery willows are all key features of her peaceful havens. These broad, sheltering trees are all reminders of a happy youth that the artist celebrates in her work. The strong character and vitality of this painter are also evident in the dancing light and glowing warmth that emerge from her paintings.

She has a spontaneous and generous hand with oils that effectively conveys her love of bright colours. All these elements breathe fresh new life into her works, which create harmony in contrast.

Louise Martineau has been represented by the Au P'tit Bonheur Art Gallery since 1998, exclusively since 2011.