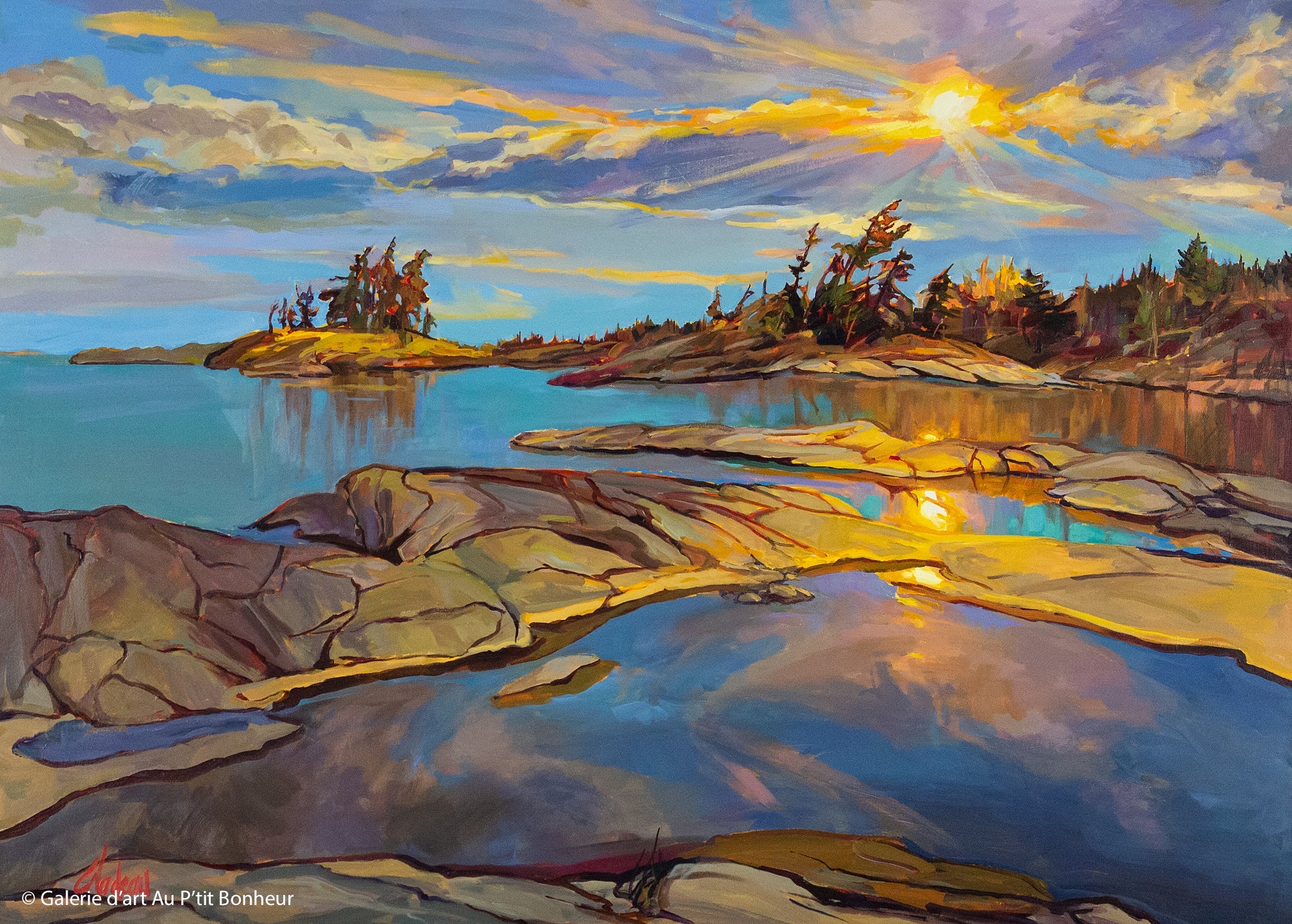 Would you like to receive Christine Nadeau's news by email?
Christine Nadeau, painter, was born in 1964 in the region of Quebec, where she still lives. Passionate about landscapes and marine scenes, her acrylic work is characterized by a palette of warm colors and strong contrasts. In his works, a profusion of large brushstrokes rub shoulders and organize themselves into a harmonious structure.

---
Christine Nadeau; Witness the beauty of the world

His date and place of birth
Christine Nadeau was born in Quebec in 1964 where she lives.

His education, his career
From an early age, Christine has always sought to express herself through art. Holder of a bachelor's degree in visual arts from Laval University, it is first as a graphic designer that she chooses to express her artistic sense. She founded an advertising company, which she then ran for 15 years, while painting in her spare time. Alongside her career in graphic design and studies in psychology, she developed her practice of oil painting, then acrylic. In 2005, the passion for painting prevails; she gives up graphic design to devote herself full time to her art. Since then, everything has been linked for the artist, who now sees his works exhibited all over the country.

" After more than 15 years of working with oil, the discovery of acrylic was a revelation. I have in me, and this shows through in my works, the learning of both mediums. Oil left me a legacy that acrylic benefits from. »

His work, his art
Passion, intensity, spontaneity and contrasts: Christine Nadeau happily displays her personality on her canvases;
"As I like contrasts and my character is direct and without half-measures, the construction of my work is based on these opposites and this on several levels, in particular my frequent use of hot-cold, chiaroscuro, contrasts quantity and complementary colors. When I express something, I like to go all out: the sun is always bright, the emotion frank, nothing static. It is moreover the light, the life, the joy and the movement that I seek to translate in my paintings. "

Both attached to traditional values ​​and driven by the search for novelty, she particularly dares to combine old shades and more daring colors. His big brushstroke associated with acrylic, which dries quickly, serves his spontaneity very well. His favorite subjects are spring scenes where the snow contrasts with the heat of the sun, flamboyant autumn landscapes and seascapes where light plays a leading role.

Drawing a parallel between a river and human strength, between a country lane and a life path, the artist happily assumes the contemplative nature of his work. His subjective expression of the world most often overlaps his emotional perception, as the titles of his works reveal; Mirage, Attachments, An island a refuge, Quietude, ...

For her, a good mastery of composition and drawing draws up an organized framework where a free and harmonious expression can evolve.
Christine Nadeau has been represented by the Au P'tit Bonheur Art Gallery since March 2018, exclusively for Quebec.