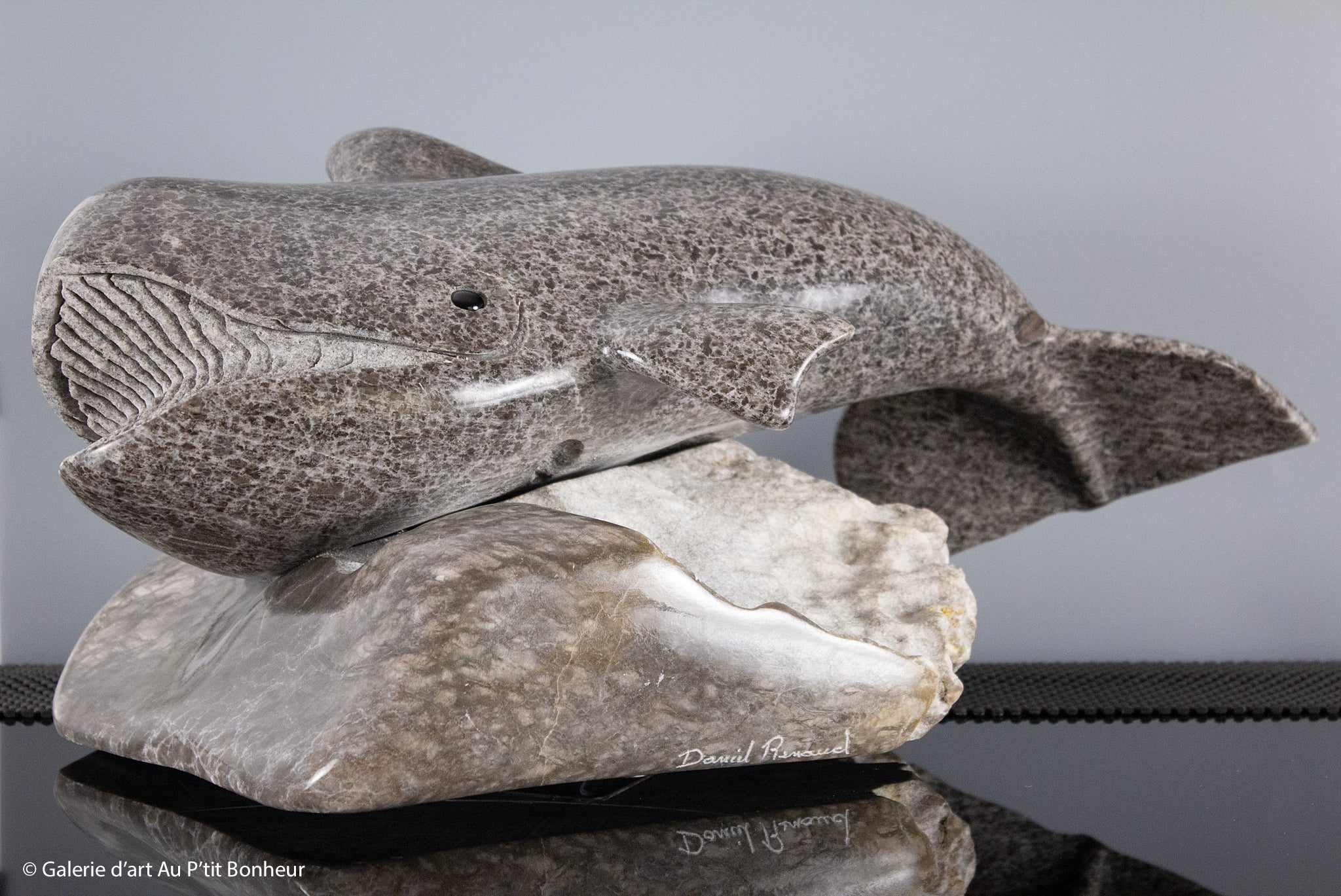 Would you like to receive news from Daniel Renaud by email?
Daniel Renaud, sculptor, was born in 1964 and lives in Iles-de-la-Madeleine, Quebec. His work, located halfway between the figurative and the stylized, is a powerful hymn to the Islands, to their combative people and to the generous sea. Through his sculptural universe imbued with lyricism, the artist gives us some of the treasures that the sea has buried in the alabaster stone.


---
Daniel Renaud - Awakening the soul of the islands
His date and place of birth
Born in 1964 in the Magdalen Islands, Daniel Renaud is one of those whose work as well as existence bears the blessed seal of their native land. Indeed, for this child of the sea, of shells and capes, the world and things take on the color of its islands rocked by the wind and the flavor of the salty air. In addition to his Madelinot heritage, Daniel received a very valuable gift from his carpenter father. Indeed, from his father's work, he will remember from childhood that it is possible to give things the forms they take in our imagination.
His education, his career
Very early on, Daniel's taste for creation led him to perfect his artistic knowledge. He studied drawing, painting, watercolor and bas relief sculpture. A few years later, he discovered his artistic universe in alabaster stone. This is how dust and wood shavings soon mix with stone dust in the father's workshop. From exhibition to exhibition, he has never ceased to shine for his magical way of awakening the soul of the beautiful islands.
His work, his art
Recognized for its wide variety of colors, the alabaster stone of the Magdalen Islands is truly the source of the artist's creation. More colourful, more opaque than that from Italy, it cannot be found anywhere else.

When he executes and proceeds to the realization of a piece, the artist listens to the message of the stone. This, he says, reveals to him lines, currents and tides. Unpretentious but with a lot of conviction, rarely with great blows of breaking, he gently removes stone dust on stone dust to give birth to his work.

In his works, located halfway between the figurative and the stylized, Daniel Renaud remains present and current. At the same time as he tames simplicity, the artist astonishes by the richness of his creations and gives us some of the treasures that the sea has buried in stone.
Daniel Renaud has been represented by the Au P'tit Bonheur Art Gallery since 1999.