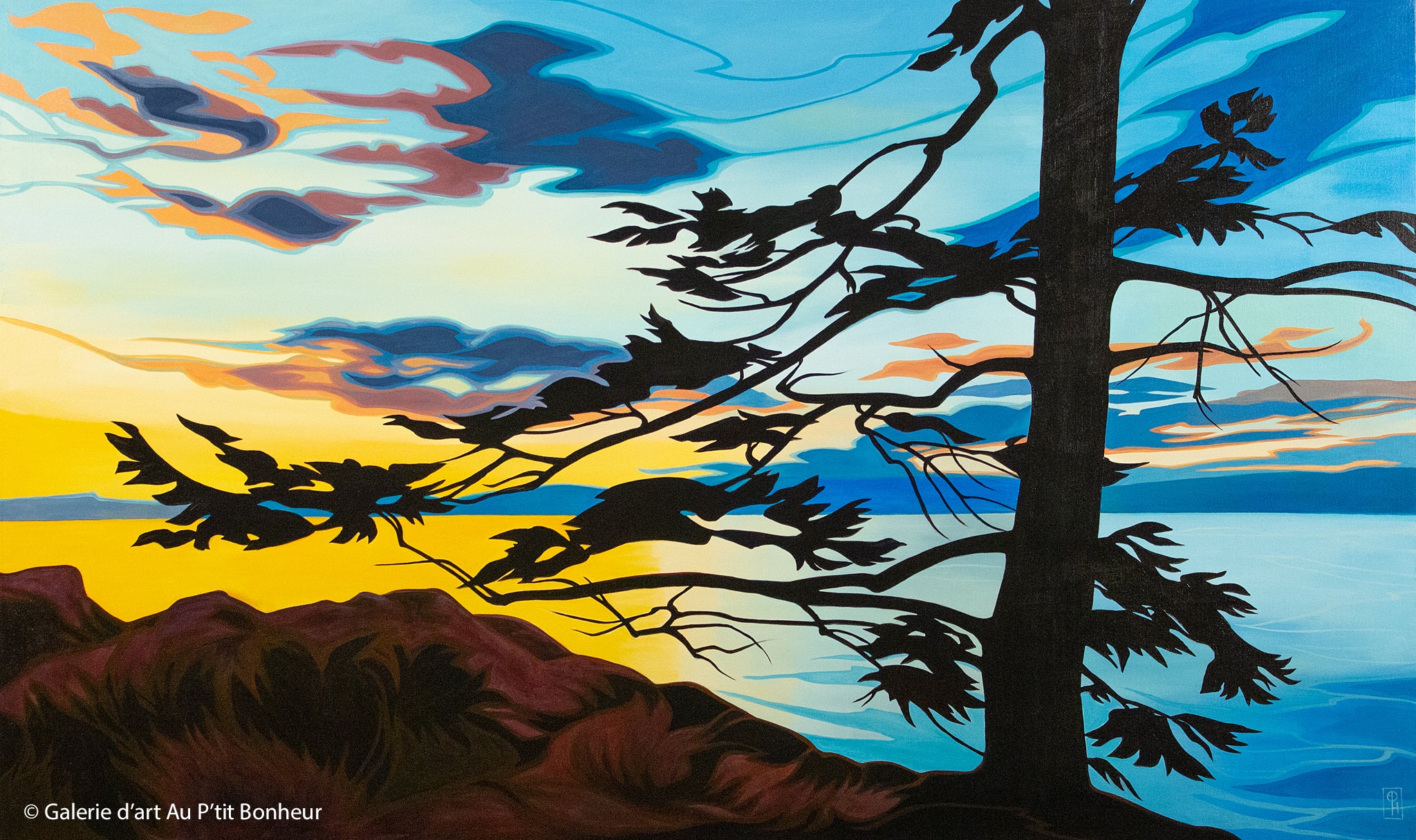 Would you like to receive news from Erica Hawkes by email?
Erica Hawkes, a contemporary painter from Kelowna, British Columbia, is distinguished by her resolutely modern and warm landscapes: dynamic scenes rendered with force through bright colors, generous curves and bold outlines.


---
Erica Hawkes - New Horizons

His date and place of birth
Born in 1975, Erica Hawkes grew up in the countryside near Prince George, in northern British Columbia, surrounded by wide open spaces and nature. Today, she lives in Kelowna, in the Okanagan Valley, with her husband and two children.

His education, his career
Erica studied design at the Colorado Institute of Art in Denver, Colorado. Years later, she continued her education in Vancouver and earned a degree in fashion design. For the past 20 years she has worked in book illustration, portraiture, art education and photography. She worked with various mediums, including graphite, watercolour, Indian ink and oil paint, before finally settling on acrylic paint. Erica is well known for her landscape paintings: colorful scenes forcefully rendered using geometric shapes and lines. She now works full time as a professional artist and her work is currently exhibited in various galleries across Canada.

His work, his art
Largely self-taught, Erica owes her unique style to a variety of influences. Much of her body of work is painted in a style she has dubbed "Nouveau 7", which pays homage to the Group of Seven. She is also inspired by the sinuous lines and organic curves of the Art Nouveau movement. of the late 19th and early 20th century, and it has affinities with cubism and Japanese minimalism. These influences give Erica's landscapes a modern, contemporary feel with a touch of nostalgia.

The works of this artist express a very personal aesthetic through her perspectives, her luminous colors and her forms with bold outlines. Rolling mountains, silken clouds and reflective bodies of water are immortalized by sharply angular or elegantly sinuous expanses of color. Erica's paintings possess an inherent luminosity that immediately attracts and captures the attention of the public.

Erica Hawkes strives to infuse her passion for nature and the beauty that surrounds us into each work:
" I want every detail to add, rather than take away, something from the board, so I'm looking to do more with less. I focus more on the balance between light and dark as well as the overall harmony of each painting. I do my best to captivate audiences with bold colors and shapes. My goal is to catch your eye and take it across the painting, hoping to elicit a sense of peace or happiness. »
Erica Hawkes is pictured by the Au P'tit Bonheur Art Gallery since March 2020, exclusively for Quebec.