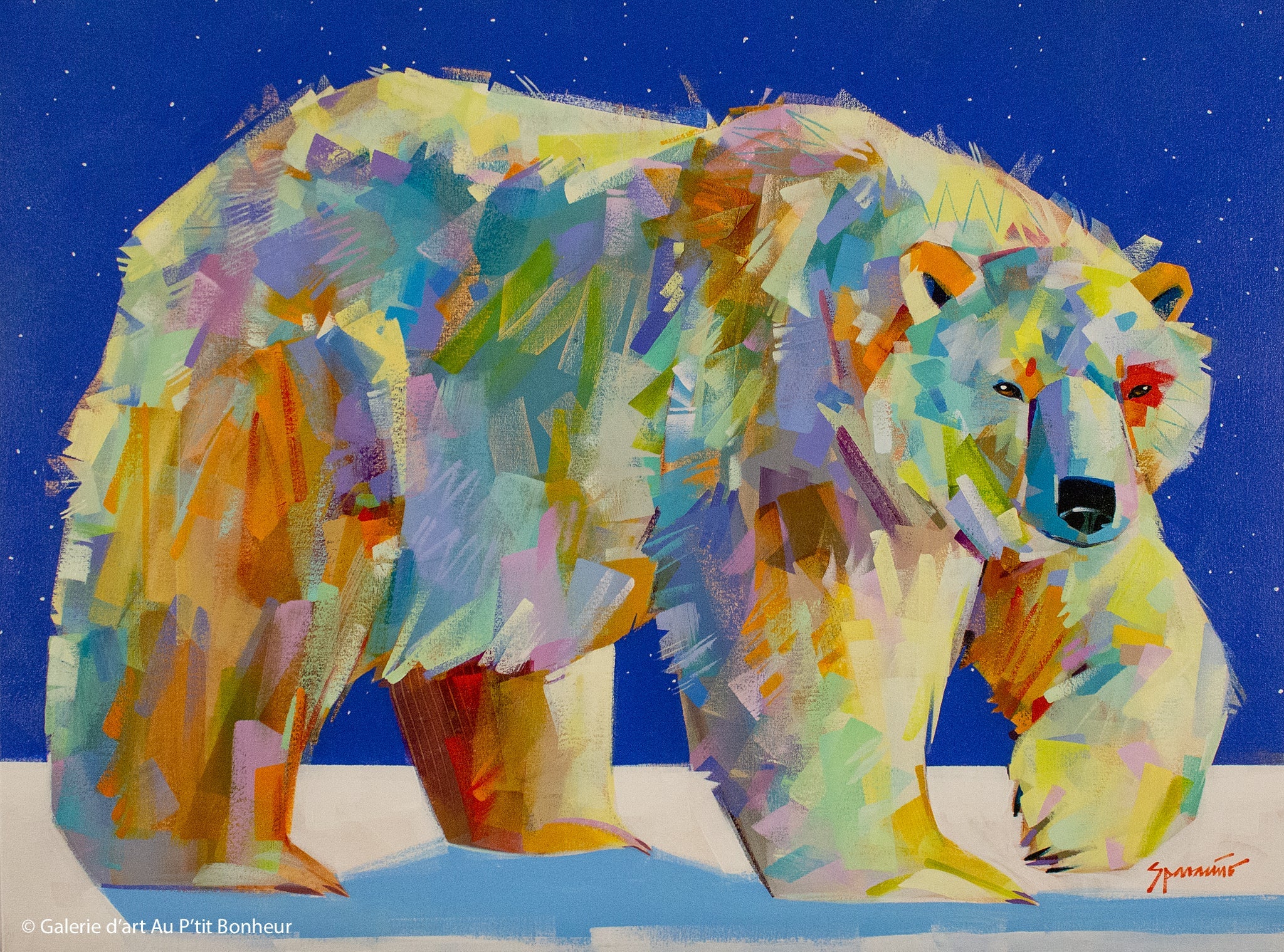 Would you like to receive news from Jennifer Sparacino by email?
Jennifer Sparacino is a contemporary painter from British Columbia, born in 1982. Her work, which revolves mainly around animals, is characterized by Fauvism-inspired colors, paint applied in clean cutouts and graphic patterns.


---
Jennifer Sparacino - Energy and Spirit of Nature

His date and place of birth
Jennifer Sparacino was born in British Columbia in 1982. She now lives in Chilliwack, a rural town east of Vancouver. Creativity and artistic expression have always played a big role in his life. The countless hours spent in nature during his youth also had a considerable influence on his career.

His education, his career
In 2007, Jennifer received her degree in Graphic Design, Commercial Illustration and Fine Arts from Capilano University. From then on, she fell in love with painting. Between 2006 and 2010, while working as a graphic designer for a newspaper and then for a marketing agency, she deepened her knowledge of painting with several artists during workshops overseen by the Federation of Canadian Artists.

In 2011, at age 29, Jennifer took the plunge; she quit her job and became a full-time artist, painting being her primary means of expression. Today, she pursues her artistic approach with passion, determined to develop her own style and to explore different subjects in a happy marriage of know-how, spontaneity and originality.

His work, his art
According to Jennifer, her style is mostly figurative and expressionist. He alludes to reality while expressing his own interpretation of his subjects, mixing solar colors with detailed representations. Solid composition, careful design and effective use of voids are all characteristics of his painting inherited from his background in graphic design.

For the past few years, Jennifer's work has revolved mainly around animals and flowers. This is characterized by colors inspired by Fauvism, paint applied in clean cutouts and graphic patterns. The artist uses different shades and tints as well as exploded color combinations to create volumes and a three-dimensional appearance. Small strokes of the brush and fine erasures give the furry and feathered animals additional texture.

Sparacino's work reflects his love of nature, animals and the human experience. Most of his acrylics on canvas feature a blank or monochrome background, depicting the subject in close-up. Wild animals have become for her " a way of highlighting their presence in the immediacy and their relationship to the present – ​​they are simply in the moment, here and now, busy living ". As such, his works offer a new angle of view on fauna and flora.
Jennifer Sparacino has been represented by the Au P'tit Bonheur Art Gallery since September 2018, exclusively for Eastern Canada.