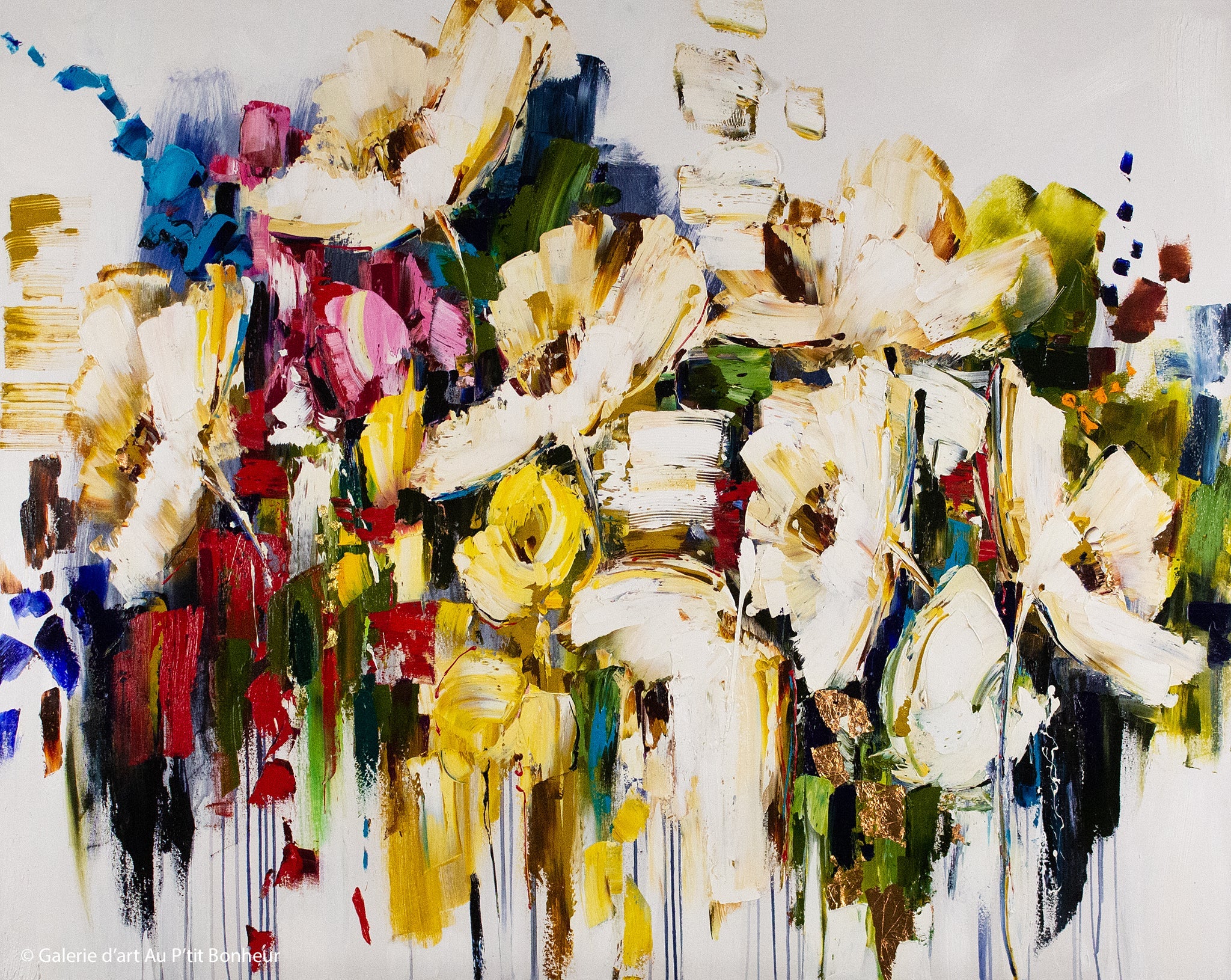 Would you like to receive news from Kimberly Kiel by email?
Kimberly Kiel was born in Saskatchewan in 1972. Working primarily with a spatula and oil paint, she fashions her vividly colored paintings from an array of impasto marks. Dynamic and enthusiastic, she expresses herself through a multitude of subjects; dense forests, lush bouquets, concerts and great cocktails.

---
Kimberly Kiel - Vibrant Passion

His date and place of birth
Kimberly Kiel was born in Saskatchewan, in Balgonie, in 1972. At 31, she began her career as a painter. She was then living in Calgary. In 2008, called by the tranquility of the great outdoors, she returned to settle in her native province, where she still lives.

His education, his career
After earning a degree in Finance from the University of Regina, Kimberly moved to Alberta, attracted by the career opportunities offered by the oil province in the 1990s. She founded her own financial services firm there in 1993. After a decade of successfully devoting herself to this activity, she nevertheless dreams of change. Her love for creation has always been satisfied through music and dance. Then, the first time she slides a brush, floods a canvas with colors, she vibrates with her greatest passion. She sells her business to devote herself full time to learning to paint.

Kimberly finds as much joy in the process of painting as she finds in discovering the result of her inspiration; " Art fascinates me! For me, creating is a celebration of the joy and color found in life . »

Although essentially self-taught, Kimberly was able to enjoy the support of invaluable mentors at the start of her career. In addition to this sound advice, his time in the business world has served him well; thanks to her entrepreneurial spirit and her go-getter nature, she now exhibits and sells her works throughout the country.
His work, his art
Kimberly Kiel's talent is expressed through various subjects; landscapes, flowers, trees and characters. She loves the creamy texture of the oil, the fact that it doesn't dry out too quickly, and the playfulness of the blends. At a glance, we can see that color is a major source of inspiration. On her canvas, she manipulates the colors that she arranges in successive layers to form inspiring textures. She experiments, then composes her subjects; " I like to take the paint out of the tube and spread it generously on the blank canvas. Each time I feel an immense feeling of satisfaction, I let myself be guided by instinct. Often, I have no idea where my inspiration comes from. I say to myself for example "OK I paint a floral subject " and when I finish my work I say " Wow, where does that come from? »

From the outset, she recognizes that her goal is to create something subjective, intriguing, stimulating. She wants her art to touch amateurs right to the heart, that her painting awakens their spirit and soul. Her positive attitude, her enthusiasm for life is perfectly reflected in Kimberly Kiel's creations. Like her works, she is energetic, outgoing and charming.
Kimberly Kiel has been represented by the Au P'tit Bonheur Art Gallery since January 2013, exclusively for Eastern Canada.