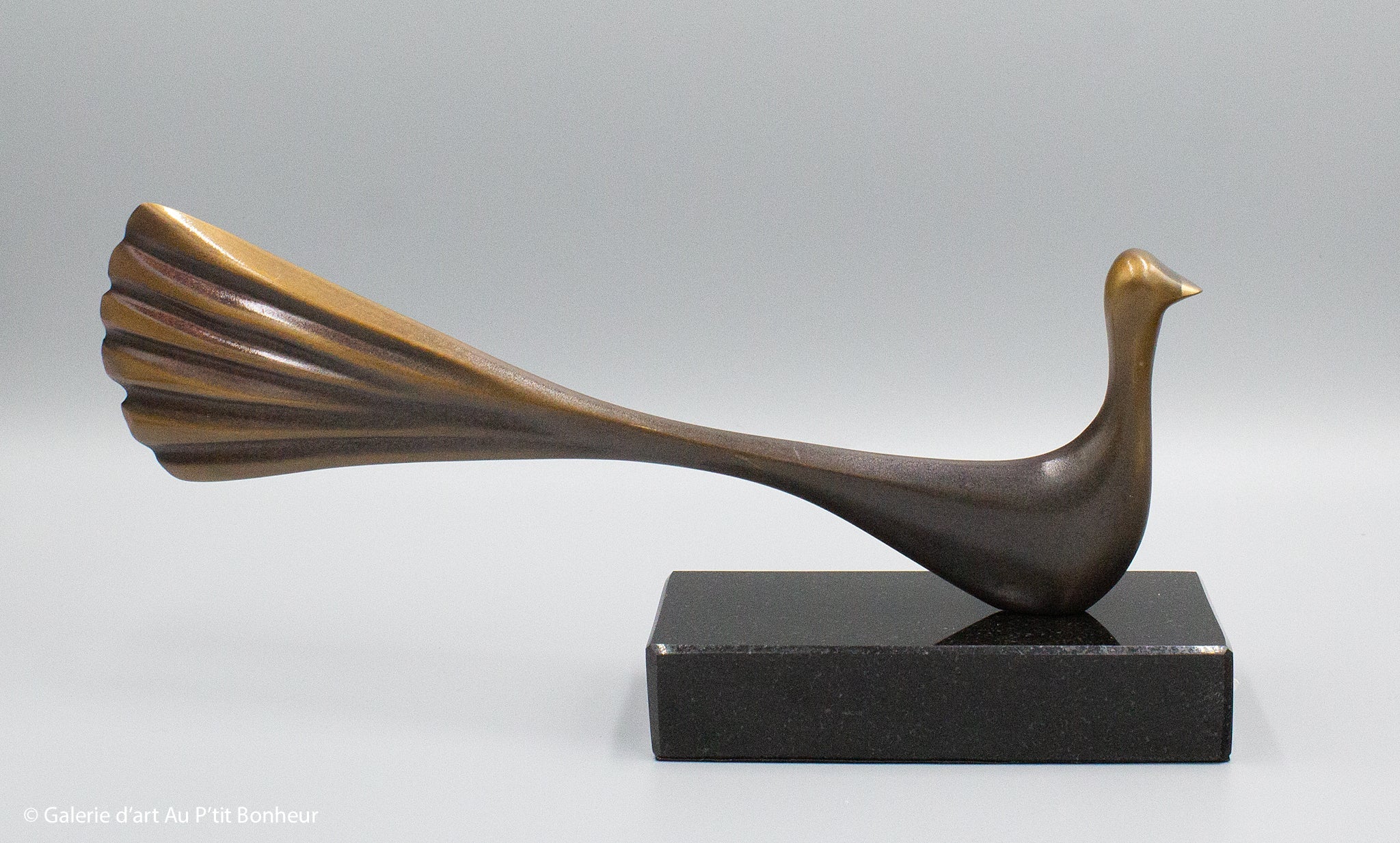 Would you like to receive news from Marc Martel by email?
Marc Martel was born in Lévis in 1933. He lived most of his life in the Quebec region, until his death in 2016. Sculptor with an inventive spirit, "father" of a multitude of birds in Patinated bronze, his work is characterized by symbolism and has an abundant, original and communicative dynamic.


---
Marc Martel - Birds of… Happiness! (1933-2016)
His date and place of birth
Marc Martel was born in Lévis in 1933. He spent his childhood and adolescence in Buckingham before settling in the Quebec region where he lived until his death in 2016.

His education, his career
With a degree in Literature from Laval University and a Bachelor's degree in Plastic Arts from the University of Quebec at Trois-Rivières, Marc Martel began sculpting in the early 1970s while pursuing a career as a teacher. He refined his art through numerous study internships in Canada, the United States and Europe. Concrete, bronze and ceramic, the sculptor crossed the milestones that will give full measure to his work. A prolific artist, Marc Martel has participated in 25 exhibitions, including 13 as an individual, in addition to seeing his work the subject of a retrospective in 2001. His sculptures are exhibited in several Canadian galleries and many corporate collections include of its parts.
His work, his art
Alternately draftsman, painter, engraver and jeweler, Marc Martel was a versatile artist whose talent was consecrated by sculpture. His work, characterized by symbolism, has an abundant, original and communicative dynamic. Whether through his imposing sandstone or concrete murals, his terracotta busts or his small bronze pieces, Marc Martel knows how to translate the essential. His approach is inspired by a single and noble desire, that of ensuring that " sculpture is accessible without being easy, that it speaks to people, awakens their senses and makes them progress. »

During the last two decades of his life, it was the birds in patinated bronze that animated the sculptor's inventive spirit. From 1993, the artist made more than a thousand drawings in a small notebook from which he fashioned 240 models drawn in only 8 copies. The pieces, which rarely exceed 30 centimeters, inspire joy and gaiety while offering a skilful modeling that does honor to the mastery of the sculptor. Also, each bird is decked out with a qualifier as a name, which enhances the sculpture by making it very lively, almost animated. Thus, you will enjoy meeting the meditative , the paunchy , the sleepy , the juggler or the bollé ; very expressive winged characters, birds of… happiness that always make observers smile.
Marc Martel has been represented by the Au P'tit Bonheur Art Gallery since 1993.