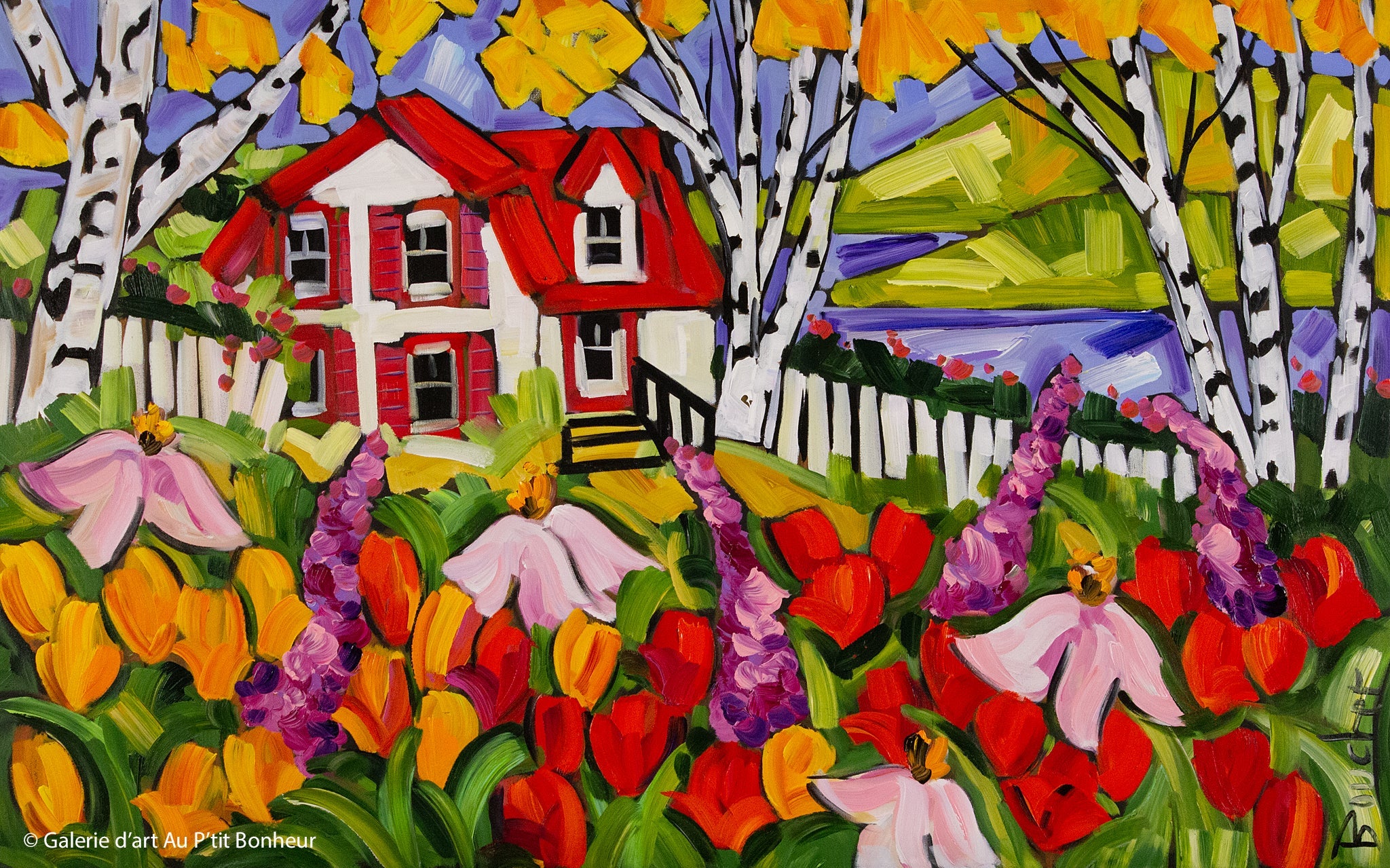 Would you like to receive news from Marie-Claude Boucher by email?
Marie-Claude Boucher lives in Montreal. Self-taught, her approach is that of a contemporary landscape artist with an expressionist touch. His work is synonymous with bright colors, picturesque scenes and good humor!


---
Marie-Claude Boucher - Where life is good

His date and place of birth
Marie-Claude Boucher, who now lives in Montreal, was born in Charny, Quebec in 1973.

His education, his career
She was interested in art from an early age; as a child, she spent long hours drawing with her twin sister. Later, she obtained a degree in arts and literature at McGill University, where she studied Latin, Spanish and French literature, among others. After a brief career as a teacher, she decided to devote herself to her true passion, painting.

Exhibited in galleries since 2004, Marie-Claude's works are sought after both in Canada and the United States.

Very generous, the artist does not hesitate to get involved with causes close to her heart. As such, his works adorn the walls of the Montreal Children's Hospital and the Montreal Veterans Hospital. Her playful style has also been used to illustrate "Super Katie to the Rescue", a children's book that incorporates her whimsical style into a unique figurative approach.

His work, his art
Marie-Claude developed her style using spontaneous, broad and loose brushstrokes. She uses a primary and bold color palette relying on fluid brushstrokes and minimal detail to convey her message; "I do not seek perfection in the details, but rather simplicity in my staging". It is in the countryside that she finds her inspiration, often interpreted through its welcoming houses with red roofs and flowerbeds. She is seduced by the charm of rural life: the white fences, the bicycle left by the tree, the laundry drying on the washing line... A great traveler, she is also inspired by the places she has visited, as evidenced by its series of Parisian balconies, its lavender fields and its Hawaiian landscapes.

Endowed with a vibrant spirit and an effervescent personality, Marie-Claude delivers a part of her soul in each painting. Indeed, his ability to savor every moment defines his personality and, by extension, his art.

When it comes to perfection in art, I am rebellious in that I choose to explore originality, boldness and simplicity. In front of my white canvas, I aim for spontaneity to allow each work to progress in its own direction. By allowing my feelings to direct the flow of my work, I am able to capture the energy of the moment, allowing each work to convey to the viewer a small glimpse of myself. -Marie-Claude Boucher

The liveliness of his pictorial style allows us to appreciate his own enthusiasm for the act of painting, and his colorful approach bears his inimitable signature.
Marie-Claude Boucher has been represented by the Au P'tit Bonheur Art Gallery since May 2021.