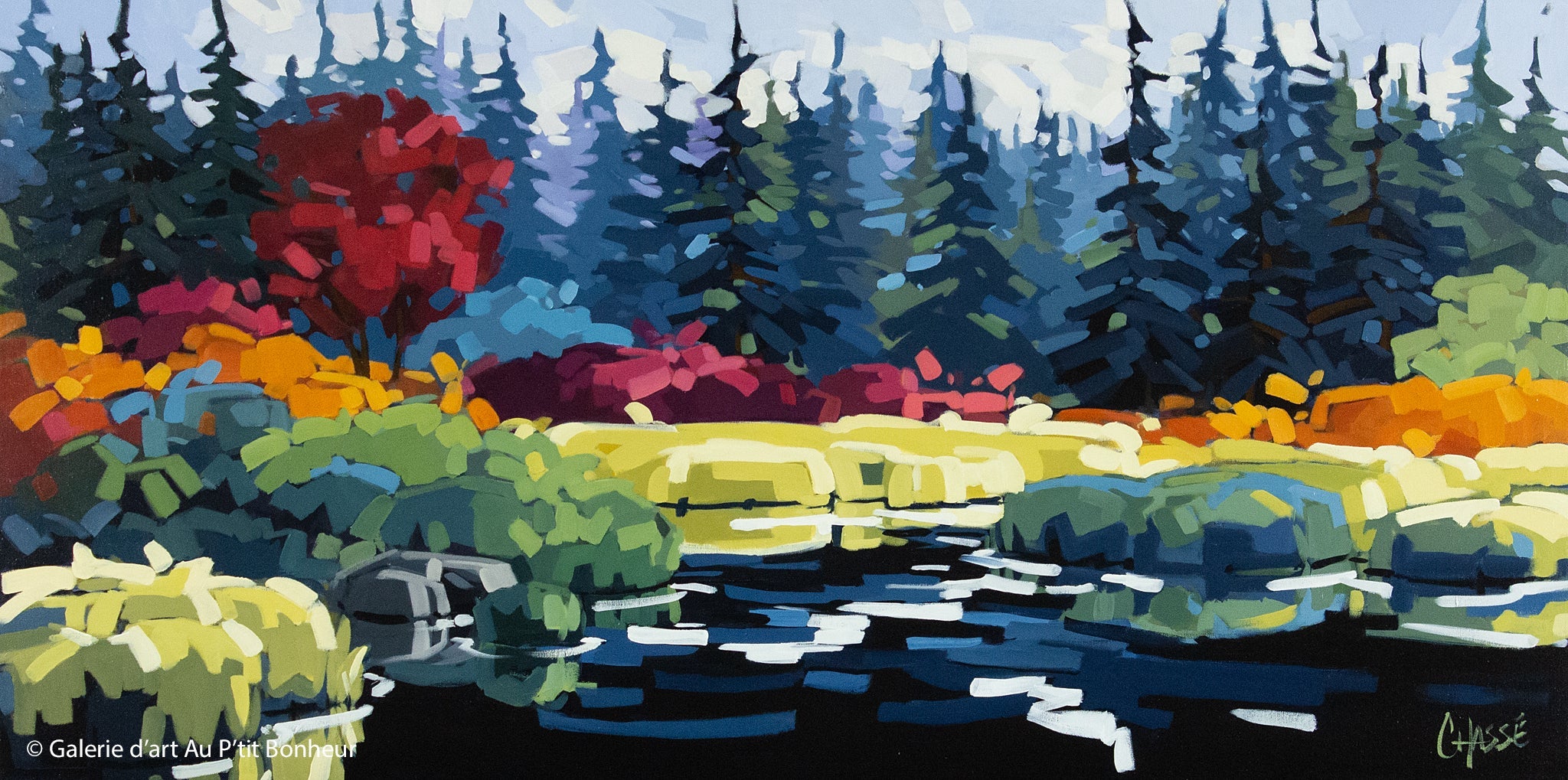 Would you like to receive Martine Chassé's news by email?
Martine Chassé, a contemporary painter from Quebec, is a native of Sainte-Marie in Beauce. Self-taught, she presents the landscape with an exploded palette of colors and gestures bordering on the figurative.


---
Martine Chassé - Live, love, create

His date and place of birth
Martine Chassé is a contemporary Quebec painter, native of Sainte-Marie in Beauce.

His education, his career
Following her training in administrative sciences at the University of Ottawa, she undertook a self-taught artistic approach.

From the top of her home perched on the heights of the Chaudière Valley, in Beauce, she discovers the singularity of the landscape that surrounds her. This place where rivers, plains, valleys and forests meet. This is also where his interest in painting was born. She quickly understood that painting would be much more than a hobby and that is why she has devoted herself to it professionally since 2008.
His work, his art
Expressionist in style, she has a great interest in the work of Canadian artists such as Lawren Harris and Franklin Carmichael of the famous "Group of Seven". Its roaring colors, sometimes tawny, applied in large strokes cause a happy and audacious dazzling. Intense, vibrant, her works surprise and bring a new perspective to the landscape through the almost graphic representation she makes of it. The chiaroscuros that she creates produce an atmosphere that leads us to that moment of calm, tranquility and rejuvenation that we seek, somehow, in our hectic lives.

My work is born from a passion to create paintings that present the landscape to you differently with an exploded color palette and a gesture bordering on the figurative.
-Martine Chasse

Painting, for Martine Chassé, is a language, a mode of expression. Over time, the artist realizes that his artistic approach is in fact a constantly evolving process, which cannot be frozen in time. It's a long journey that allows for better self-knowledge. Each day lived brings to this approach, a nuance, a different hue, however subtle it may be. She understands that it is the sum of our experiments that creates us, defines us and reveals us to ourselves, our own nature, unique and authentic. Ineluctably, it is all this baggage that is transposed into his creation.

Martine entered as a signatory member of the Institute of Figurative Arts (IAF) in April 2018. Her works are part of several private and public collections in Canada, the United States, Europe and Asia.

Martine Chassé has been represented by the Au P'tit Bonheur Art Gallery since April 2021.