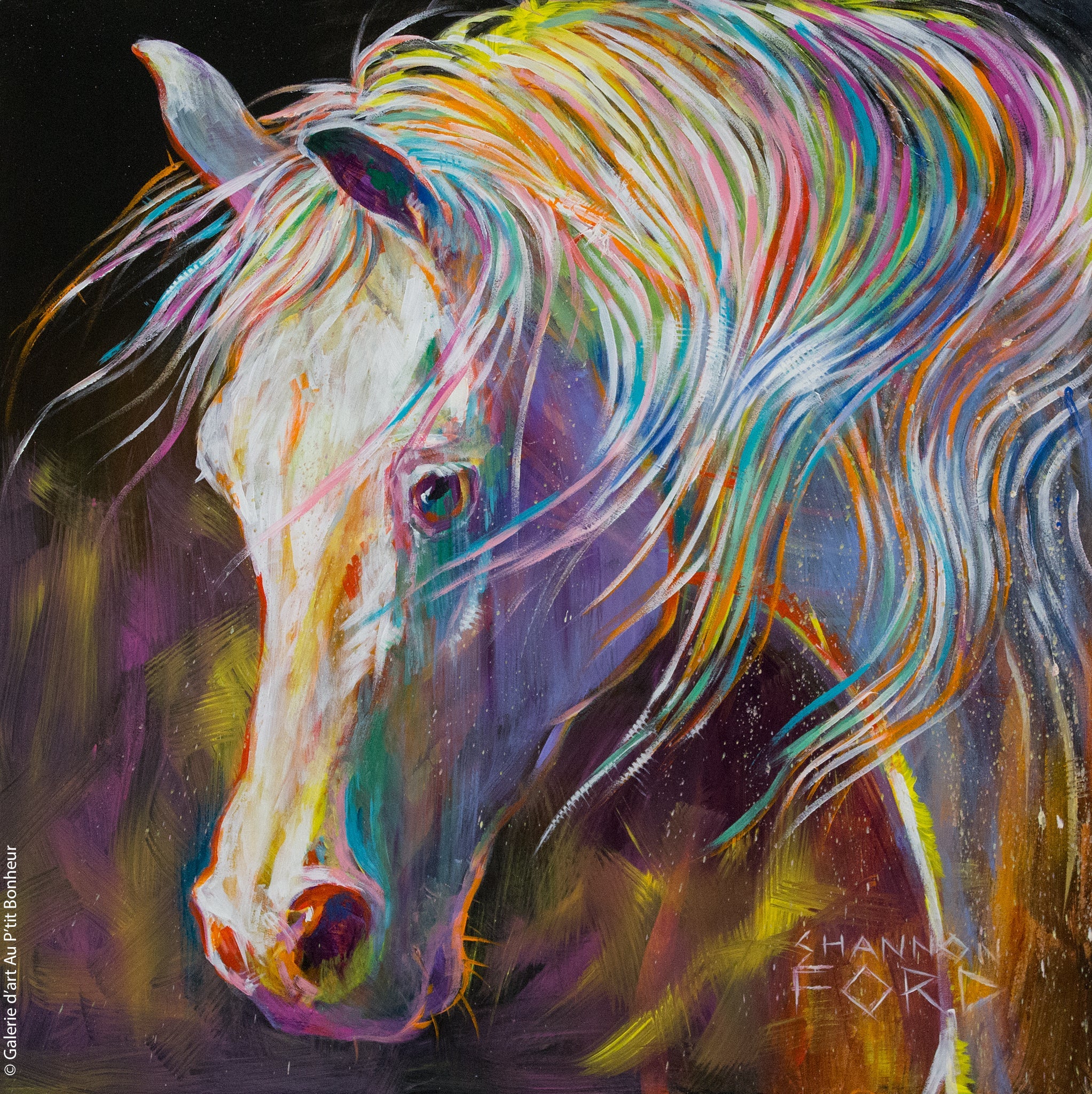 Would you like to receive news from Shannon Ford by email?
Shannon Ford lives and paints on Denman Island, near Vancouver Island. She is inspired by her horses and other animals on her ranch, as well as the wildlife of Western Canada to create her acrylic paintings. These feature bold color palettes and are executed with large, expressive brushstrokes.


---
Shannon Ford - Grace, Beauty, Spirit & Freedom
His date and place of birth
Born in Regina, Saskatchewan, Shannon Ford is now based in British Columbia, in the small community of Denman Island.

His education, his career
In 1982 Shannon Ford graduated from the Metalsmithing Faculty of the Alberta College of Art and Design. In 2004, she returned to study Fine Arts there and obtained a baccalaureate.

For more than thirty years, Shannon enjoyed great recognition as a jeweler and sculptor. This success certainly influenced his works on canvas. An interdisciplinary artist, she has developed a distinctive way of doing things and a style. From precious stones that she reduces to powder, she creates her own pigments which she introduces in layers in her acrylic works, thus producing unique shades. She even incorporates 24 carat gold in some of her paintings.

Another direct result of all these years spent designing, thinking "in three dimensions" is the fact that his painting is largely inspired by the physical space of sculpture;
(…) When I paint, I think like a sculptor. To create the illusion of a third dimension on a flat surface, my imagination stirs. I dissect the subject of the gaze to discover all the subtleties, from the muscle to the outline of the coat. I am fascinated to see the surface of an object disappear simply by the way it is painted.

His work, his art
(...) My creations are a reflection of everything around me... the people I love, our horses, the wild animals and those on the ranch inevitably find their way into my artistic work.
The main source of inspiration for the artist is at his doorstep and greets him with a joyful neigh every morning; On their ranch, Shannon and her husband raise mangalarga marchador, a breed of horse considered the Brazilian national breed. Shannon adds that he is the most amazing horse ever! In addition to being inspired by her own horses, she maintains close relationships with breeders and trainers who are delighted to see their proteges immortalized on canvas.
Shannon's "animal portraits" display bold color palettes and are executed with broad, expressive brushstrokes. In his pictorial treatment, the form of the subject enters into a relationship with the light, creating vibrant atmospheres, impressions of movement and dynamic volumes. Because she likes to wrap her subjects in an aura of mystery, she creates illusions thanks to the techniques she has developed over the course of her experimentation.

For Shannon Ford, each canvas is a moment of eternity, an experience of light and lightness. His work invites the observer to participate, to get lost in it to explore another dimension, both enigmatic and innovative.
Shannon Ford has been represented by the Au P'tit Bonheur Art Gallery since December 2012, exclusively for Eastern Canada.