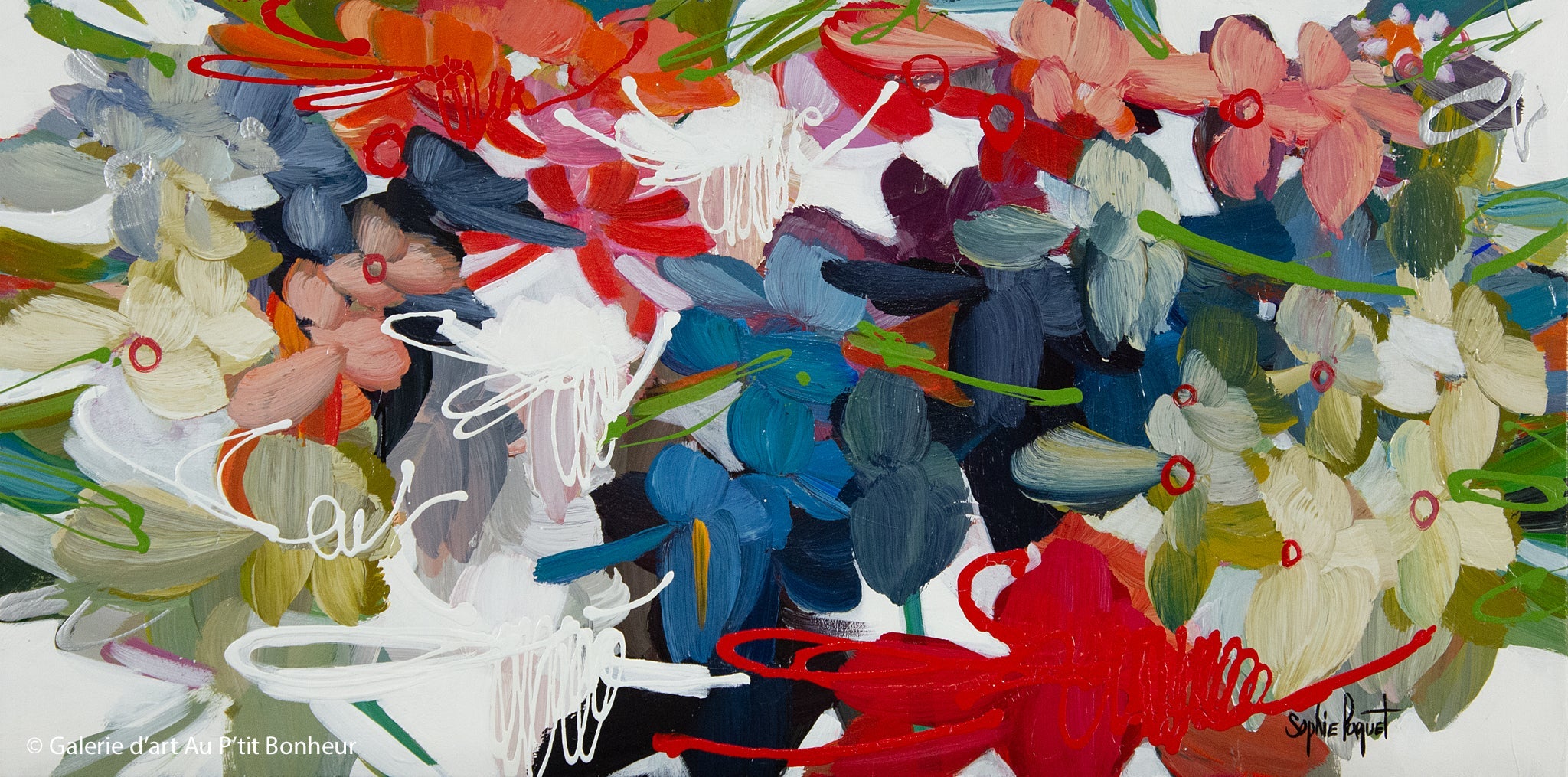 Would you like to receive Sophie Paquet's new releases by email?
Sophie Paquet is a contemporary painter from Quebec. In a mixture of abstraction and figuration, she reinvents flowers. Energetic and spontaneous, his exploded still lifes are veritable symphonies of colors, pleasurable ensembles of lines and curves.


---
Sophie Paquet - Floral Moose
His date and place of birth
Sophie Paquet was born in Sherbrooke in 1963.
His education, his career
Very early on, Sophie Paquet discovered an interest in the arts. In fact, the artist owes his deceased father, an art-loving decorator-architect, for having bequeathed to him his passion for painting and the certainty as to his future. It therefore went without saying for Sophie to enroll in visual arts at the Cégep de Sainte-Foy. In 1985, she obtained a bachelor's degree in visual arts from Université Laval. To complete this university education, she returned to the college of Sainte-Foy, where she took courses in graphic design. Her preferred mediums are acrylic on paper and canvas, and oil pastel.
A rising figure in the painting world, Sophie Paquet has exhibited regularly since 1989.
His work, his art
Sophie Paquet considers her most spontaneous paintings to be the best. In his art, there is no room for repentance and hesitation which would reduce the effects of his temperament, which translate into energy and movement. The dynamism of color has always fascinated her. In his work, variety and asymmetry participate in a quivering and wriggling composition! His taste for painting is that of impulses from the heart, fiery tributes to nature with a desire for balance, light, youth and beauty.
Essentially expressionist, his paintings prove to be of great sensuality, born of an unusual sense of color and gesture.
The flowers that the artist offers us have the strength, the impertinence, the brilliance, the freshness and the mischievousness of the eyes of children who pierce the world, from top to bottom, to better pin down the images.
His web is full like a beautiful fruit. Its colors are fine, subtle and velvety. Intersecting volumes, rigorous lines, composition without apparent complication, his creation is however neither simple nor naive. It is the result of a skilful work where each one finds his flavor of life, the taste of the effort, a great creative breath.
Sophie Paquet has been represented by the Au P'tit Bonheur Art Gallery since 2004.