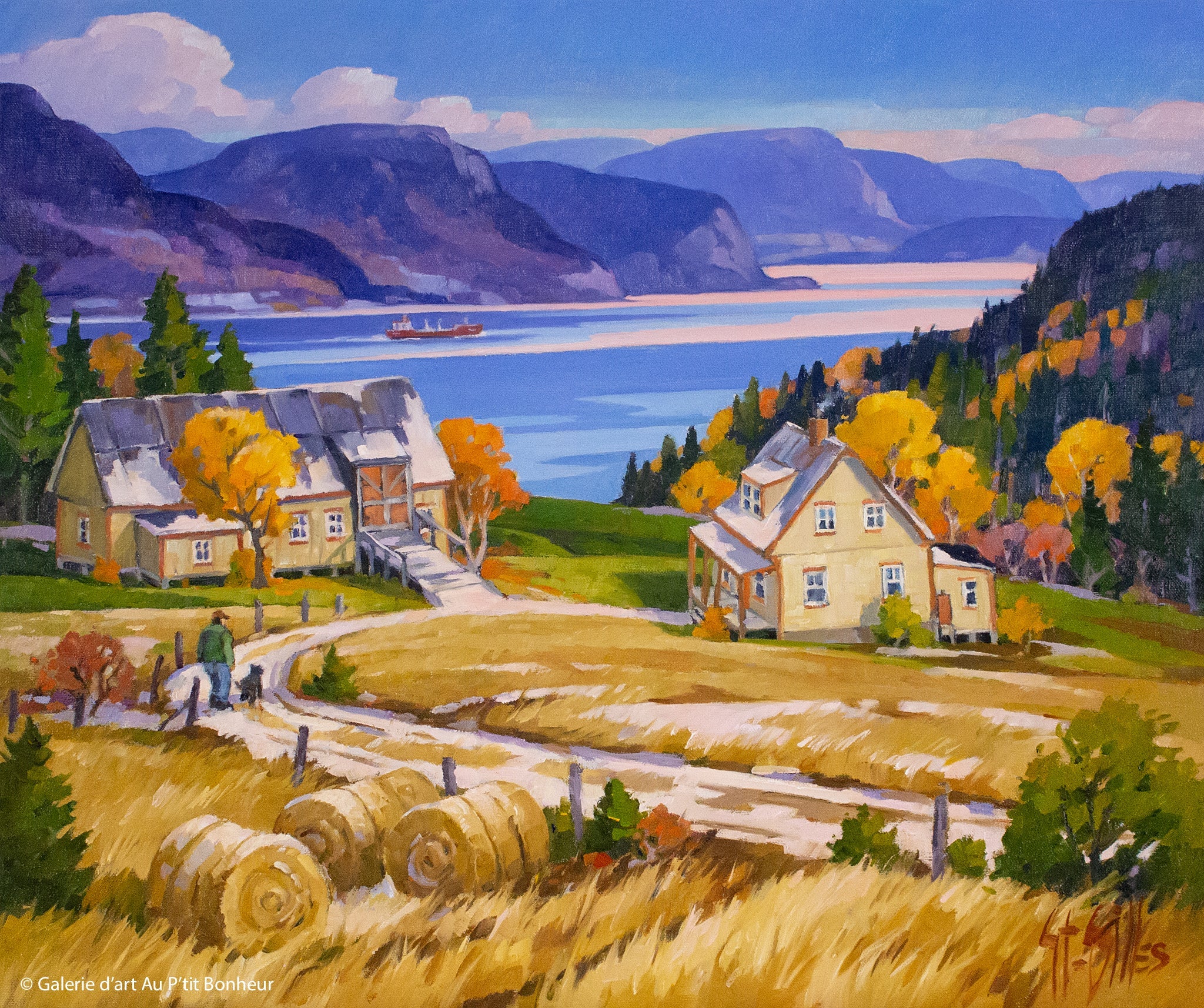 Would you like to receive news from St-Gilles by email?
St-Gilles was born in Quebec in 1956 and quickly established himself as one of the most influential landscape painters of his generation. A professional artist since his early twenties, this lover of great nature has devoted himself since 1999 to criss-crossing the country in search of the most beautiful Canadian landscapes.

---
St-Gilles - Passionate interpreter of nature

His date and place of birth
The painter St-Gilles was born in Quebec in 1956.

His education, his career
St-Gilles studied at Sainte-Foy college and holds a college diploma in presentation aesthetics. He began very young to study painting. He learned this art from Arthur Genest, then from Paul Brien, Mario Mauro and Bruno Côté. It was the latter who introduced him to the Charlevoix region. The artist first made a name for himself through his watercolours, then moved on to oil, his current technique. He made research trips to France, Italy, the Canadian North and the Iles-de-la-Madeleine.

The career of this young landscaper got off to an excellent start. Indeed, in 1979, St-Gilles - who was not yet 25 years old - held his first individual exhibition. The year 1981 marked his breakthrough in Montreal art circles. St-Gilles continues its momentum: from 1982 to the present day, he has held more than 25 solo exhibitions in several major Canadian cities. This landscape painter is highly appreciated by connoisseurs, especially for his great talent as a colourist.

Today, St-Gilles stands out as one of the most influential landscape painters of his generation. Since 1999, this lover of great nature has devoted himself to a major challenge; criss-cross the country, looking for exceptional sites to compose a collection of more or less 120 large format paintings which will be the subject of a permanent exhibition.

His work, his art
When we contemplate one of the paintings of St-Gilles, an idea immediately comes to mind: the life and profession of this painter are intimately linked to a great respect for places and people. " Through the landscapes they discover on my canvases, people become aware of the richness of the places around us and contribute, by loving them, to safeguarding them ", says the artist.

Space and light reign in the work of St-Gilles where the most constant impression is that of immensity. From the depths of the sky to the foreground of the canvas, everything holds together. The quality of the composition never fails. We note that there is always a dominant color in his paintings. We also observe that water is present in the majority of its landscapes, no doubt a reflection of the first impressions felt from the top of Cap Diamant.

Thanks to his great perspectives, St-Gilles shares his emotion and his admiration with us. He seizes a happy moment, restores it and takes us with him. What we see can only excite the imagination. Nature is more than a clump of trees, it is height and distance. The horizon becomes in turn terrestrial, liquid, misty and mountainous. The sky unfolds its fantasies on the river. In short, space never ceases to invite us to set sail!
St-Gilles has been represented by the Au P'tit Bonheur Art Gallery since 1997, exclusively since 2001.